What We Do
Zabaan is an independent language school in New Delhi that offers language training at all proficiency levels. Whether at our learning centre or online, Zabaan provides instruction in the following languages: Hindi, Urdu, English, Persian, Tamil, Punjabi, Pashto, Sanskrit.  Which zabaan, or tongue, will you learn?
Who We Are
Zabaan is run by the dynamic language learning duo, Ali Taqi and Neha Tiwari.  With a special interest in linguistics, semantics, syntax, bilingualism, and foreign language teaching techniques, Ali is fluent in English, Hindi, and Urdu, and teaches all three languages at Zabaan.  Following his extensive teaching career in Seattle and his hometown of Chicago, Ali has now personally taught over a third of the more than 30,000 classes that have been taught at Zabaan since its founding in Delhi. Neha is a born and bred Bhopali who speaks English, Hindi and Urdu and also knows Sanskrit and Farsi.  As an etymology expert, she has the unique ability to strengthen students' vocabulary by deconstructing words into their roots, prefixes, and suffixes.
Ali and Neha have hand selected ten polyglot teachers from around the world to join their team, seeking individuals who share their passion for language learning and are skilled instructors. Most of Zabaan's teachers possess advanced degrees in the languages they teach and have years of teaching experience. All have been trained on Zabaan's teaching methods and curriculum to ensure the consistency and effectiveness of instruction.
Why We Started Zabaan
Language classes in India are typically available at large universities with an academic approach focused narrowly on reading and writing. As language learners themselves, Ali and Neha saw an urgent need for a language learning school in India that favored practical proficiency built on a deep understanding of grammatical structures and rich vocabulary rather than rote memorization of phrases and a strict academic approach.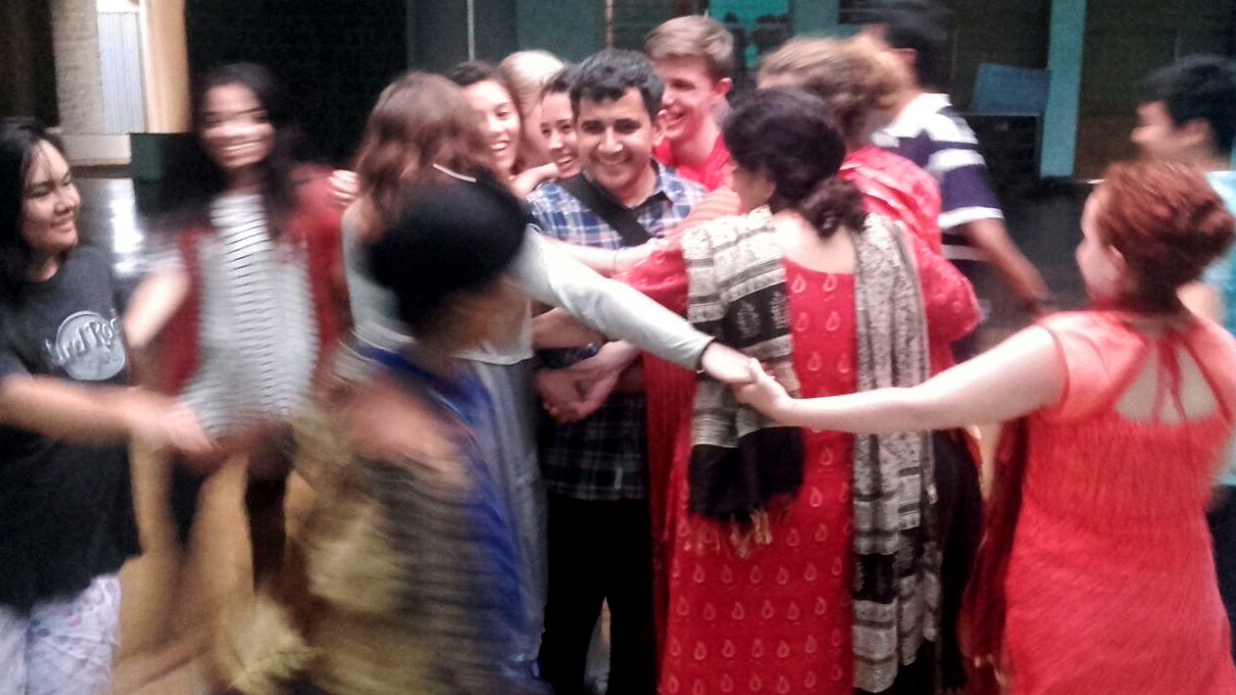 Ali Taqi
Director, Teacher
Neha Tiwari
Director, Teacher
How We Teach
Zabaan takes an adaptive approach to teaching that takes into account each student's interests, learning style, and language learning goals.  While Zabaan has been intentional in designing a curriculum and developing materials for its classes that will be effective for the widest number of students, the pace, scheduling, and specific topics covered are entirely flexible to meet the individual student's needs.
Zabaan's classes strike a balance between thorough explanation of grammatical concepts, introduction of new vocabulary, and conversation practice aimed at fluid communication. Most of our beginner-level classes are intentionally taught by non-native speakers because we believe they are better equipped to help other non-natives understand the nuances of the language.
Although students should expect to be assigned homework, there are no exams at the end of courses unless students expressly request such an assessment.  Rather, teachers conduct informal evaluations to chart student progress along the way.  This informs how they prepare for each class, which always includes a clear lesson plan and defined learning objectives.
Since learning a language can be both exhilarating and daunting, Zabaan seeks to create an atmosphere of rigorous study, while maintaining a relaxed personal relationship with students aimed at helping them feel confident to reach their potential.
In short, we are driven by the question, "Is the student learning?"
Who Would Benefit
The Zabaan experience is ideal for anyone with a passion for language learning who wants to improve their communication skills in one of the languages we offer — regardless of learning style, previous instruction, current proficiency level, or individual goals.
Whether you're looking to achieve basic, intermediate, or advanced conversational skills, read ancient texts in the original language, pass language exams for the diplomatic corps, or process dense texts in order to conduct academic research on South Asia, Zabaan can help you reach your goals.
Over the years we have taught more than a thousand students from fifty countries with sixty different mother tongues. Our students include expats interested in Indian languages and culture, Indians curious to learn a European language or the Urdu script, as well as diplomats, artists, and representatives from the business community.
Our Language Centre
Zabaan's language center is located at A-15, First Floor, Kailash Colony, a centrally located residential area of South Delhi a minute walk from the Kailash Colony Metro Station.
Our language center features:
An extensive library of reference books and literature sourced from Hindi Book Centre.
Eight comfortable classrooms with heating, air-conditioning, and air purifiers.
Five clean, fully-equipped, western-style restrooms.
Eight heavy-duty back-up power batteries for when the main supply is down.
Tasty homemade lunches to share with your classmates. Cooked using fresh vegetables and spices bought directly from EHSAAS Organic, a farm located in the fertile plain of Haryana, north of Delhi.
Clean drinking water filtered by both Reverse Osmosis and UV technology.
Delicious complimentary chai and coffee made with certified organic milk from iOrganic farm.
A first aid kit and contact information for a local doctor and hospital.